Our Specials
---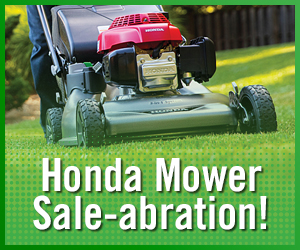 Honda Mower Sale-abration
Receive Instant Savings of UP TO $30* on select new Honda HRR series Lawn Mowers, April 18 - July 17, 2019
---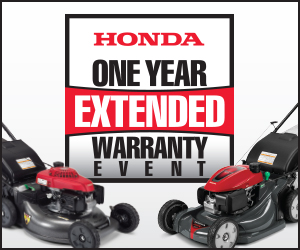 One Year Extended Warranty on All Honda Residential MowersThe Honda One Year Extended Warranty Offer is good on all Honda HRR, HRX, and HRS residential mowers, purchased April 18th through July 17, 2019**.
To qualify, units must be
Register your mower here
---
Special Financing Available
The Honda Power Equipment Credit Card
Up to 36 month special financing options are available with the Honda Power Equipment Credit Card.
Special financing is available at this participating Honda Power Equipment dealer.
*An Instant Customer Rebate ($20/$30) will be available at participating Honda Lawn Mower Dealers upon retail of qualifying new HRR models (HRR216K9PKA, HRR216K10PKA, HRR216K11PKA, HRR216K9VKA, HRR216K10VKA, HRR216K11VKA, HRR216K9VLA, HRR216K10VLA, HRR216K11VLA, HRR216K9VYA, HRR216K10VYA, or HRR216K11VYA) purchased April 18th through July 17th, 2019.
**Offer good on any new Honda HRS, HRR, and HRX Series lawn mower purchased April 18th through July 17th, 2019. Register your new mower within 30 days after purchase and receive an additional one year to the Honda 3-Year Warranty for HRS and HRR Series or Honda 5-Year Warranty on the HRX Series. Go to powerequipment.honda.com to see warranty details and register your Honda mower.